Charles G. Dawes: Nobel Prize Winner, Vice President, U.S. Ambassador to Great Britain, Accomplished Musician and Composer
The 10th Comptroller of the Currency, Charles Gates Dawes of Illinois, was a man of enormous and varied talents: lawyer, engineer, scholar, financier, businessman, diplomat, and politician. He was also a self-taught pianist, flautist, and composer, whose melodies are performed even today.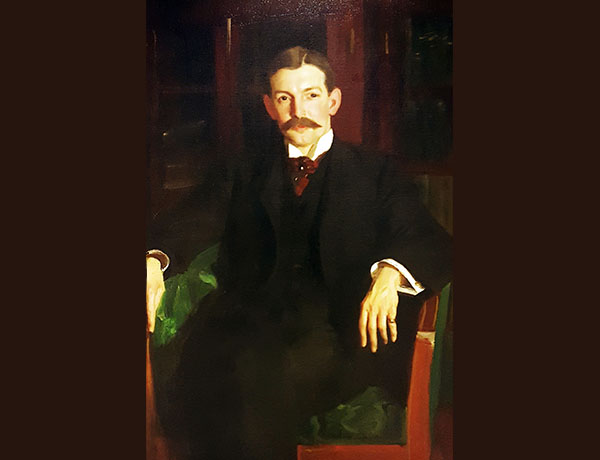 Charles G. Dawes: Nobel Prize Winner, Vice President, U.S. Ambassador to Great Britain, Accomplished Musician and Composer
Dawes was only 33 years of age when he became Comptroller in 1898. But he had already built a reputation as a leading student of U.S. financial history, largely on the strength of his book, The Banking System of the United States, which was published in 1884. It was the first of nine books he wrote in his lifetime.
Dawes served an abbreviated term as Comptroller. But his tenure came at a critical time for the national banking system, which was still recovering from the Panic of 1893. Dawes proposed a series of measures designed to bring depositors back into the banks and increase the availability of banking services in smaller communities that had long gone without them. He also took steps to strengthen OCC supervision, which he saw as essential to restoring public confidence in the banks.
When Dawes left the OCC, he was only 36 years old, and his most important achievements were still ahead of him. He founded and ran a major financial institution, the Central Trust Company of Illinois. When the United States entered World War I, he joined General Pershing's staff, where he developed an integrated supply and distribution system for the American Expeditionary Force. He was discharged as a Brigadier General.
In 1924, Germany was lagging behind in the payment of reparations required under the Treaty of Versailles, and the Allied nations appointed Dawes to propose ways to restructure Germany's financial obligations. For developing the plan that bore his name, Dawes was awarded the 1925 Nobel Peace Prize.
He was elected Vice-President of the United States on the Coolidge ticket in 1924, and after leaving office four years later, President Hoover appointed him Ambassador to Great Britain. He later served as a U.S. delegate to various international conferences and as chairman of the Reconstruction Finance Corporation, a government agency created in 1932 to make emergency loans to financial, industrial, and agricultural institutions during the Great Depression.
The Musical Comptroller
Dawes' first love, however, was music. Visitors to his Chicago-area home would often find him at the piano, plunking out tunes and making up a few himself. He was particularly proud of a melody in the key of A, which he shared one day in 1911 with a musician-friend. Some months later, strolling down State Street, he was shocked to see in the window of a music shop "a poster size picture of myself, my name plastered all over the window in large letters and the window space entirely filled with the sheet music."
The tune had become a hit—much to Dawes's consternation. He was afraid he'd be taken less seriously as a banker and politician. It made him wince when the tune was played to greet him during campaign stops for the vice presidency. But music has a life of its own, and Dawes's "Melody" has had a long life in various guises: as a cadenza in the repertoire of classical violinist Fritz Kreisler, in versions for orchestra, and with lyrics and a new title "It's All in the Game," as a number-one hit song for vocalist Tommy Edwards in 1958.
Listen to it online. And when you do, think about the Comptroller who wrote it.