NeighborWorks Week
Each June, NeighborWorks America and its network of local organizations mobilize tens of thousands of volunteers, businesspeople, neighbors, friends, and local and national elected and civic leaders in a week of neighborhood change and awareness. Since its inception in 1983, NeighborWorks Week showcases how the NeighborWorks network strengthens communities and celebrates our collective impact as a network. OCC staff have participated in the NeighborWorks Week event for many years. Below are some photos of OCC staff participation in NeighborWorks Week events in Washington, D.C.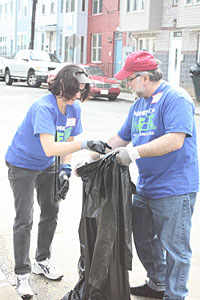 Marge Salazar, Associate Deputy Comptroller for Midsize Banks, and Hershel Lipow, Community Relations Expert, pick up debris during a NeighborWorks Week event in Washington, D.C.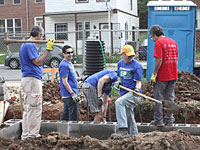 OCC employees Ammar Askari (left), Juan Marroquin (second from left), and David Permut (fourth from left) work with two other volunteers on the foundation of a home during a recent NeighborWorks Week event in Washington, D.C.
Volunteers help clear debris as part of the street-to-street cleanup of the Ivy City neighborhood of Washington, D.C.
OCC volunteers take a break from cleaning up to gather outside the new Bexhill condominiums, which were developed by Manna, a NeighborWorks affiliate in Washington, D.C.